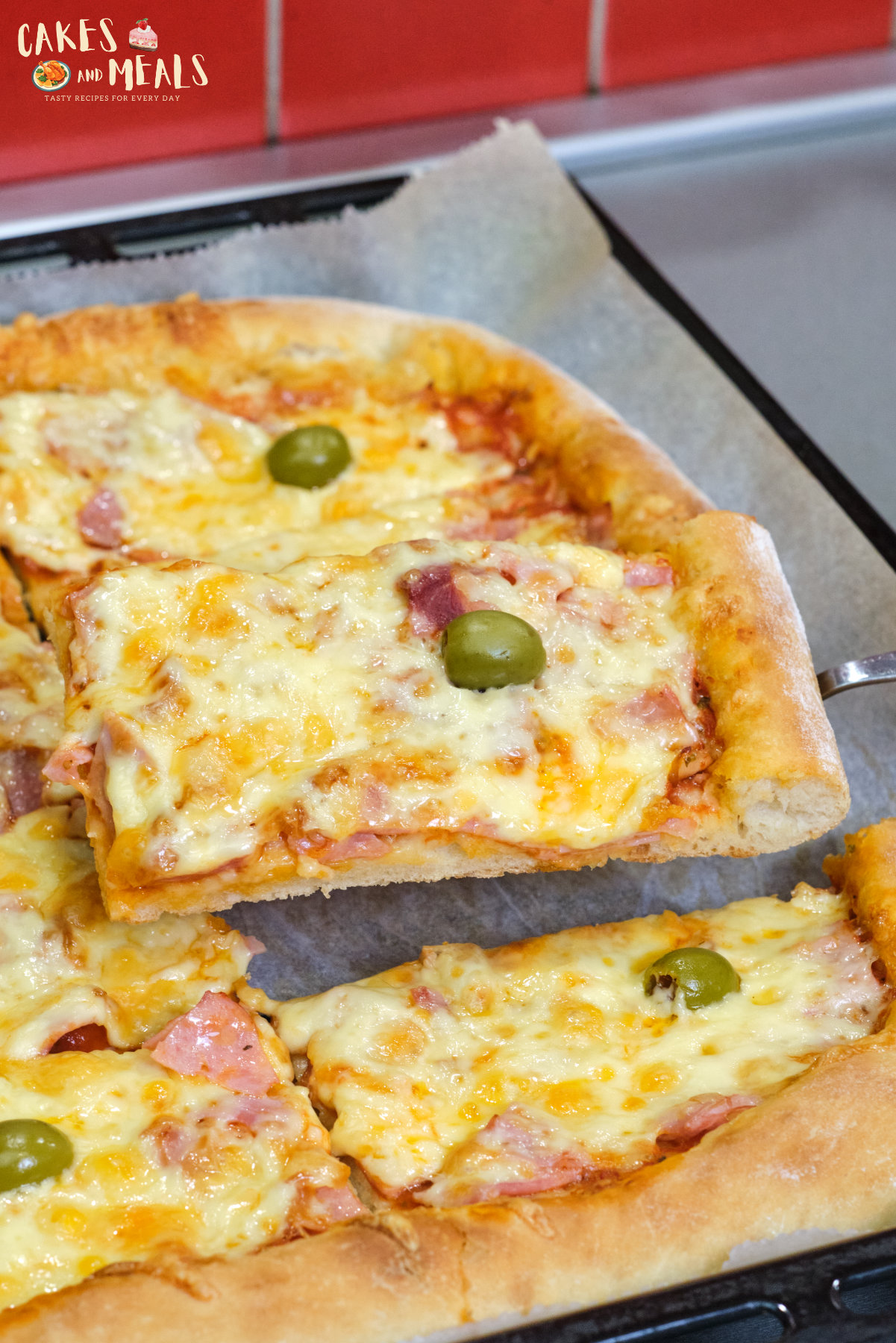 Everyone loves a good and tasty pizza. Since this dish is so popular, it is eaten everywhere, and we often make it at home. In order for the pizza dough to be truly superb, you need a proven recipe. According to the one I bring below, it turns out perfectly every time.
Homemade pizza made this way has a soft dough and a nice crispy crust, which are exactly as they should be. Even though it is baked in the oven, it can definitely be compared to those from better pizzerias. The taste is simply fantastic! I am sure that you will enjoy this recipe and make it many times.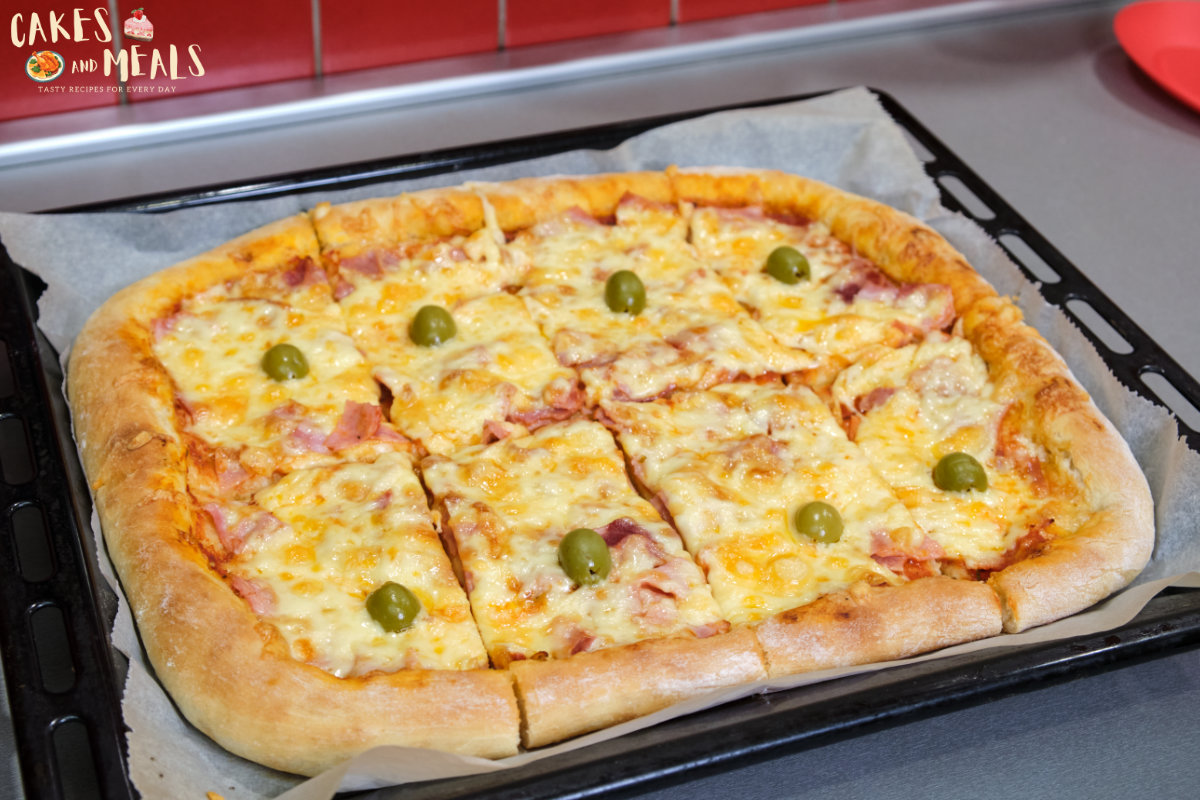 Pizza dough – how to make the best homemade pizza
What everyone will especially like is that the pizza recipe is actually not overly difficult and demanding. However, in order for everything to be right, after kneading the dough and letting it rise, you need to shape the pizza dough well. It should not be too thick, except of course at the edges. Once you practice the technique, you'll find that it's easy to do even if you're not very dexterous.
Of course, homemade pizza can have all the ingredients you want to put on it. With the inevitable tomato sauce, this time I made a classic pizza with ham and cheese. My daughter likes it the most, and she simply adores it. But when I make it for myself and my husband, I like to add champignons, onions, pancetta… Only your imagination and the capacity of the fridge are the limits! So your pizza will be made exactly with what you like, and you can be sure that it will be fantastic with this dough.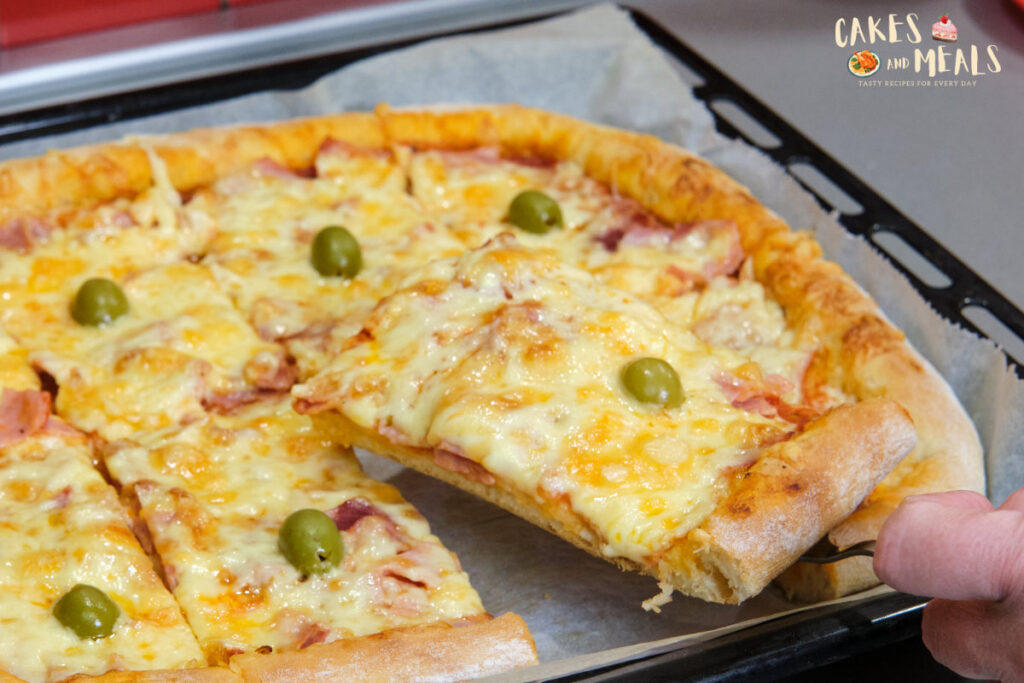 Sign up for free to our YouTube channel HERE, as well to our newsletter to always be among the first to receive our new recipes.
RELATED: If you are looking for more fine dishes of Italian cuisine, be sure to try this proven recipe for an excellent homemade bolognese sauce.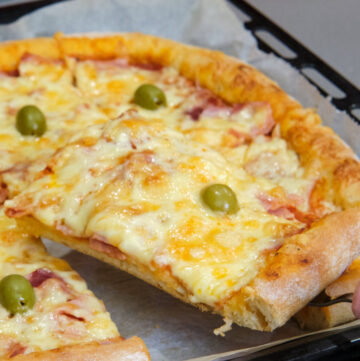 Pizza dough – Homemade pizza
Homemade pizza made this way has a soft dough and a nice crispy crust, which are exactly as they should be.
Ingredients
3

cups

3 oz all purpose flour

2

tsp

dry yeast

½

tsp

salt

1

tsp

sugar

1

cup

warm water

¼

cup

oil
Sauce:
¾

cup

tomato sauce

2

tbsp

oil

½

tsp

salt

a pinch

of dried oregano
Stuffing:
9

oz

sliced ham

2

cups

grated cheese

8

green olives
Instructions
Mix flour, yeast, sugar and salt in a bowl.

In another bowl, mix water and oil.

Pour water and oil into a deep bowl, and add first third of the mixture of flour, yeast, sugar and salt.

Mix everything with a food processor, then add the second third of the flour and continue mixing.

Knead a smooth dough with the last third of the flour by hand.

Sprinkle it with a little flour, then cover the bowl with transparent foil and a clean cloth and let it rise for an hour.

When an hour has passed, prepare the sauce.

Mix tomato sauce with oil, salt and oregano.

Bake the pizza in an ovenproof dish.

Place the dough on the baking paper in the middle, mix it and then gently press it with your fingers, making sure that the edge of the dough remains higher.

Check the size of the pizza with the pan so that the pan is placed from above.

Transfer the stretched dough together with the baking paper to the baking tray.

If necessary, additionally shape the dough to the size of the pan.

Then, with a spoon, apply the tomato sauce from the center towards the edges, making sure that the edge of the pizza remains clean.

Arrange sliced ham on top of the sauce, and grated cheese on top of the ham.

Distribute the olives evenly.

The pizza is baked in an preheated oven to 480 degrees for 15 minutes.