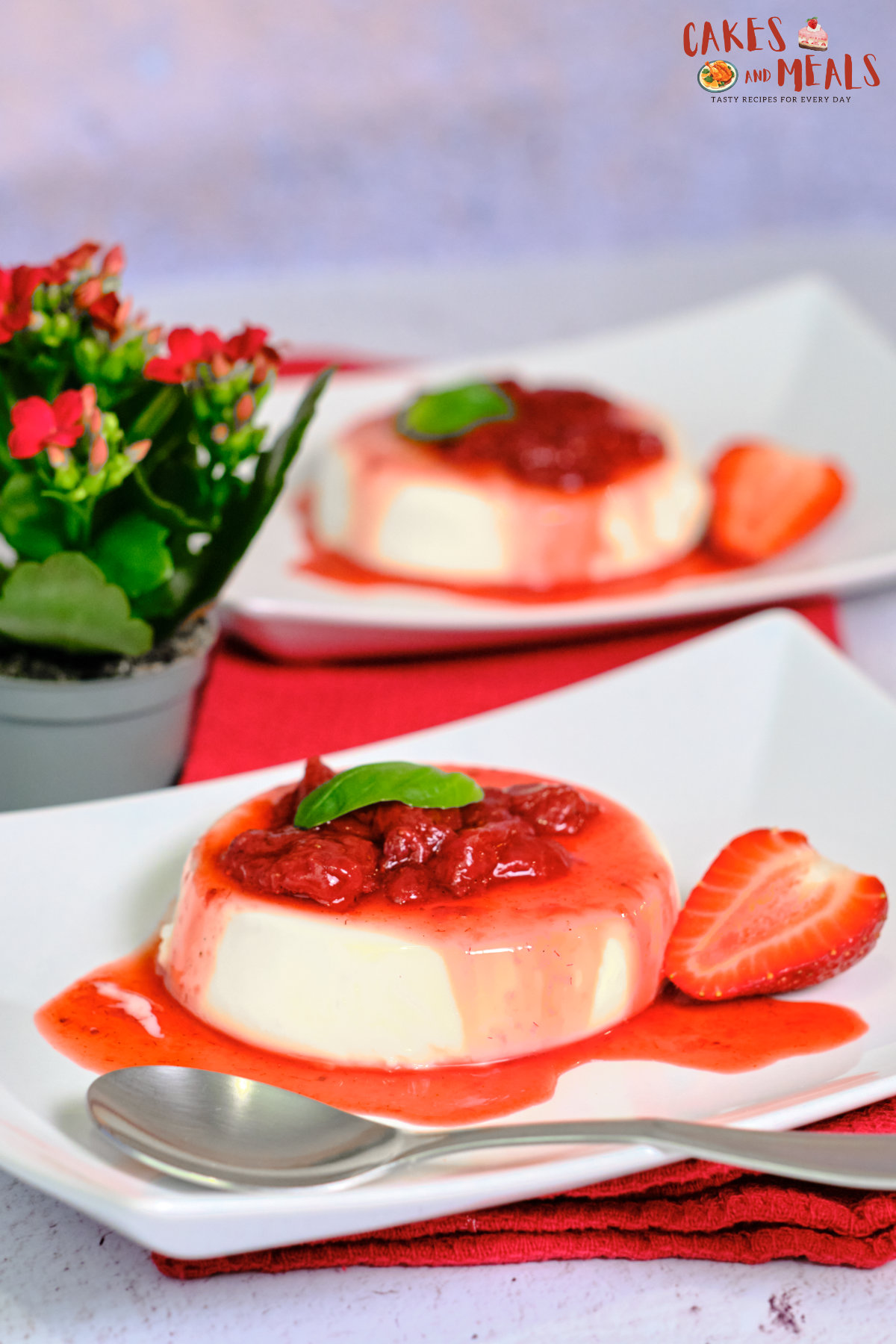 Panna cotta is famous and everyone's favorite Italian dessert. It is one of those desserts that are known and enjoyed everywhere. It is simply divinely soft, and its creamy, milky taste goes perfectly with a wide variety of toppings. It looks extremely tempting and attractive on a plate.
Panna Cotta is most often served with fruit toppings, but they can be completely different. Combinations with forest fruits, caramel and chocolate are very common. This time I decided on my favorite variant, the one with strawberries. And let me tell you right away, the strawberry dressing that I bring in this recipe will give a real explosion of flavor. That's because it's prepared in a really great way.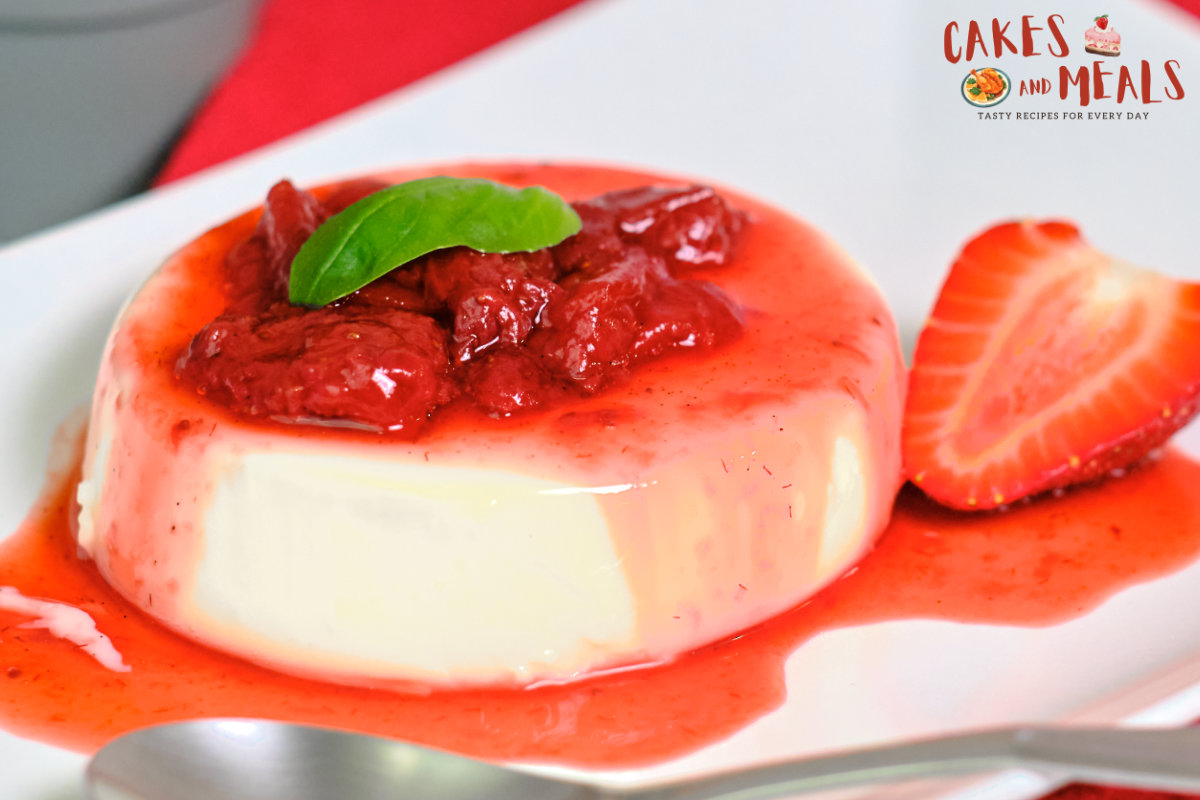 Panna Cotta – juicy strawberries for the perfect Italian dessert
Sliced strawberries with a few other ingredients are baked in the oven. When they are prepared in this way, their taste is full and juicy. There is also a lot of fine juice that they have released, which also gives a nice look as it drips down this snow-white dessert. That's why this is real perfection that you will enjoy in every bite.
Panna Cotta is not too difficult to make and consists of only a few ingredients. But as with any recipe, there are a few tricks and things to watch out for, which you'll find below in the recipe table. So you can easily prepare your perfect version of this dessert that will certainly not go unnoticed, no matter who you serve it to. I am sure that anyone who tries this dessert will be truly delighted!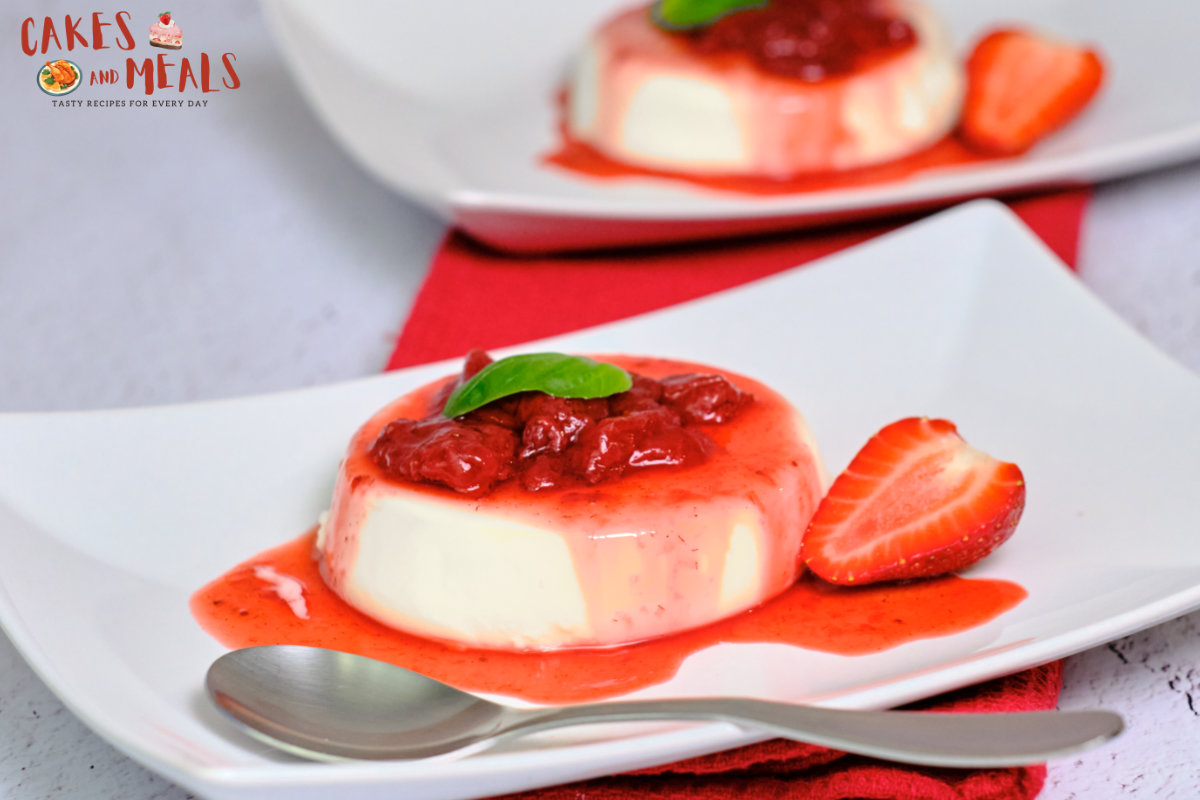 Sign up for free to our YouTube channel HERE, as well to our newsletter to always be among the first to receive our new recipes.
RELATED: If you are looking for more Italian recipes, definitely try our proven recipe for a great pizza dough.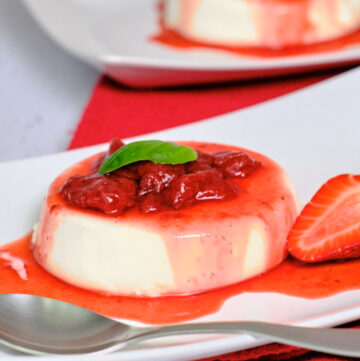 Panna Cotta
Panna Cotta is most often served with fruit toppings, and this time I decided on my favorite version with strawberries.
Ingredients
2.5

cups

milk

6

oz

sugar

1 ½

tbsp

gelatin powder

½

cup

cold water

1 ⅔

heavy whipping cream

2

tbsp

vanilla extract
Strawberry dressing:
1

lb

strawberries

6

tbsp

sugar

1

tbsp

vanilla extract
Instructions
Pour the powdered gelatin into the water, mix and make according to the instructions on the package.

Our gelatin should stand for 10 minutes.

Pour milk into a container on the stove and add sugar to it.

Heat everything up to 60 degrees Celsius.

Check the temperature with a kitchen thermometer, and if you don't have one, put your finger in and feel that the milk is warm.

Add the swollen gelatin and stir until the gelatin dissolves.

When the gelatin dissolves, remove from the heat.

Pour in heavy whipping cream and vanilla extract and mix everything well.

Prepare 6 containers of 200 ml, and carefully pour the liquid mixture into each.

If there are bubbles on the surface, break them with a toothpick.

Let the dishes cool first, then put them in the fridge to set and cool for at least 6 hours, preferably overnight.

While the cream is cooling, wash the strawberries and wipe them dry.

Cut each strawberry in half, then into smaller pieces.

Transfer them to the dish in which they will be baked in the oven, sprinkle with sugar and vanilla extract.

Mix everything well, and bake in an oven preheated to 425 degrees Fahrenheit for 20 minutes.

Take out the baked strawberries and cool them first to room temperature, and then in the fridge.

Carefully trim the cooled cream with a small knife in the container in which it was cooled.

Immerse the container in warm water for about thirty seconds.

Then cover the container with the saucer on which it will be served, and turn it over.

Tap the bottom of the container so that the cream slides out of the container more easily.

Carefully lift the container.

Put the strawberries on top of the panna cotta and enjoy every bite.