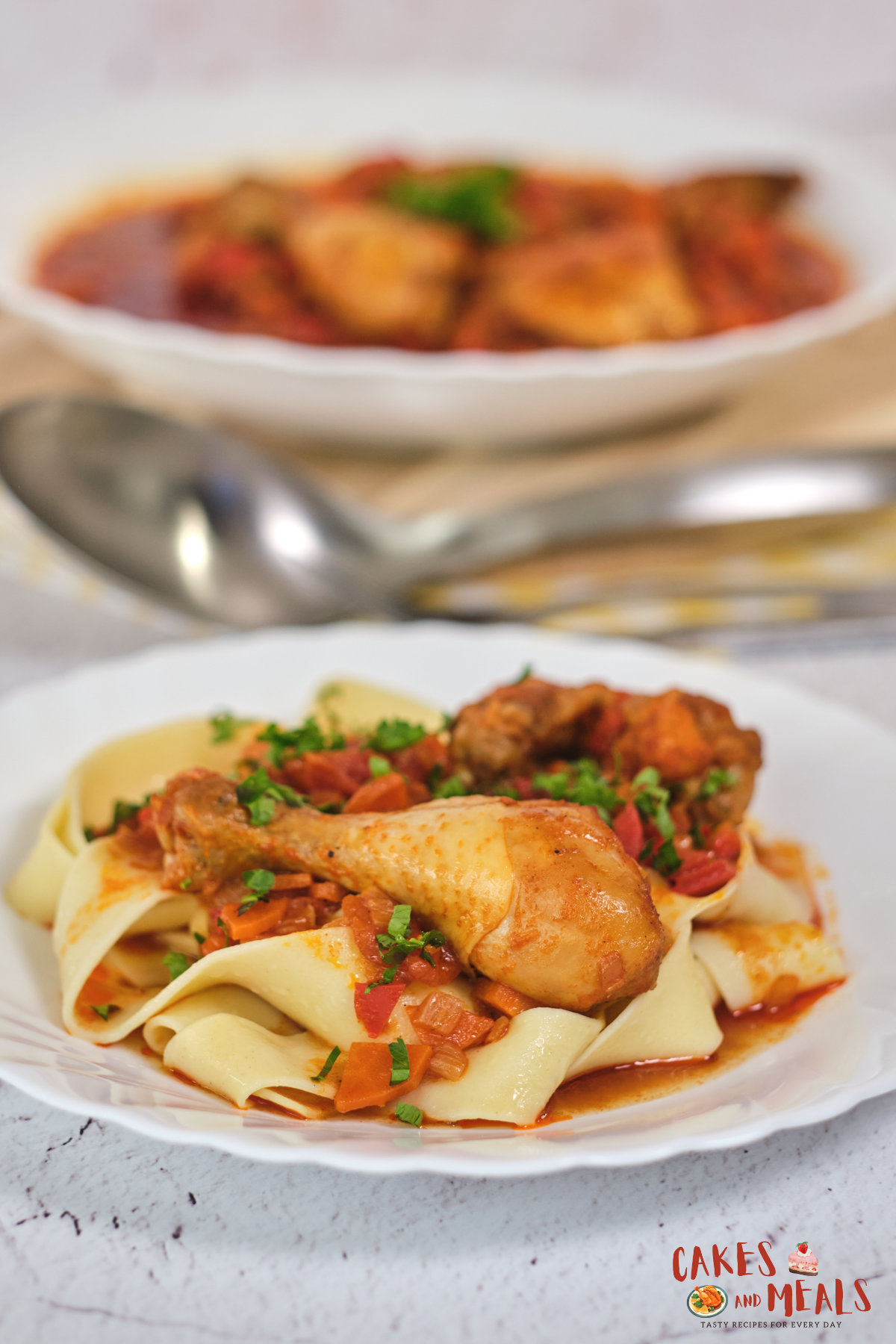 Chicken stew is one of the most popular dishes around the world. This dish has spread so much and become common that we all have accepted it as a real local dish. And it is often prepared. Chicken is also often on my menu. Prepared as part of this delicious stew, it is the ideal way to eat it boiled, not baked, as is usually the case.
In such a finely prepared and richly flavored dish, the chicken will be a favorite even with kids who are usually picky and mostly only like roasted meat. Just because of that, but also because of the simple preparation that doesn't take too much time, I'm sure it will be on your table often.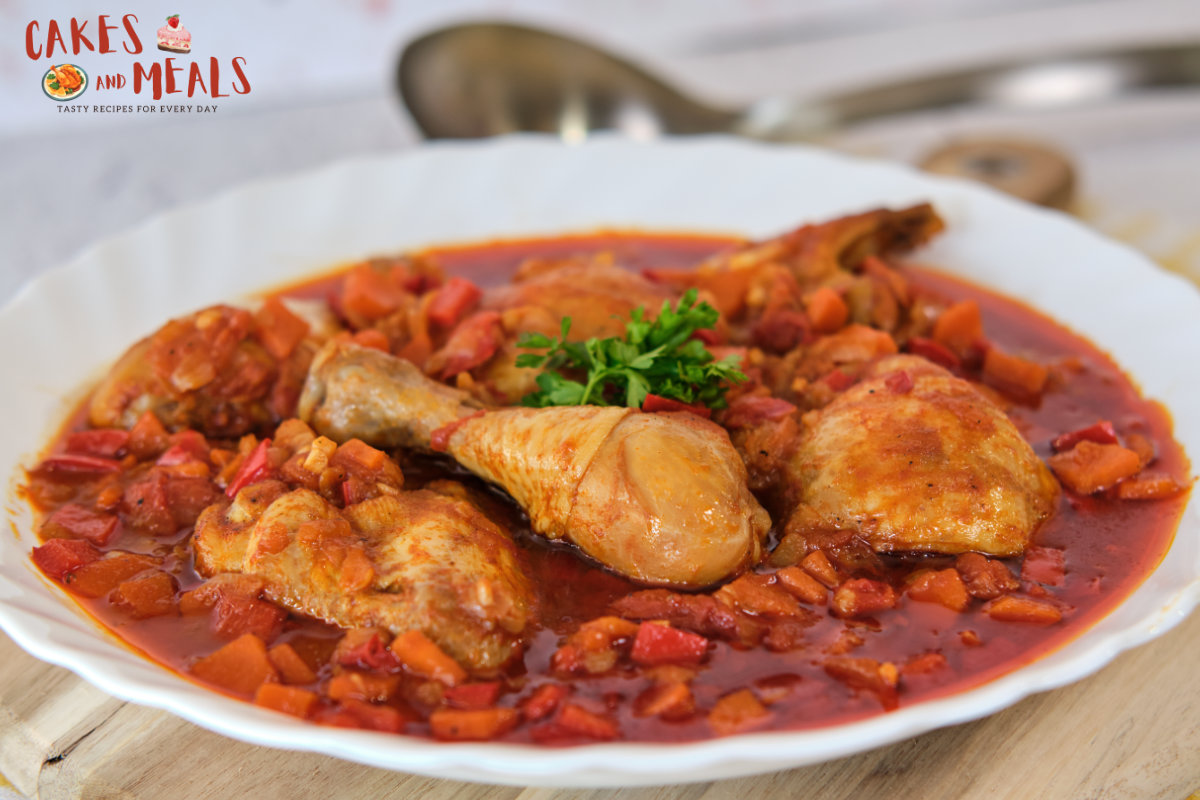 Chicken Stew – spicy or mild version, which do you prefer?
Chicken stew is made from chicken drumsticks, thighs and wings. White meat is always best saved for other methods of preparation. Variants of the recipe may differ in some details, but ingredients such as onions, carrots, garlic and pepper  are always mandatory for me. I also add peeled tomato for a better and richer taste.
Of course, there is also ground pepper. In many european countries, it is a mandatory ingredient of every classic stew that strongly defines its taste. Depending on how you prefer it, you will put sweet or hot pepper, or their ratio that suits you best. I like the milder taste best, with which all the ingredients of this fine dish can be felt better. But if you are daring and inclined to a more spicy taste, feel free to make it hotter, just be careful not to overdo it.
I served this chicken stew with pasta, which suits me best, but it would also be great served with rice, potatoes or polenta.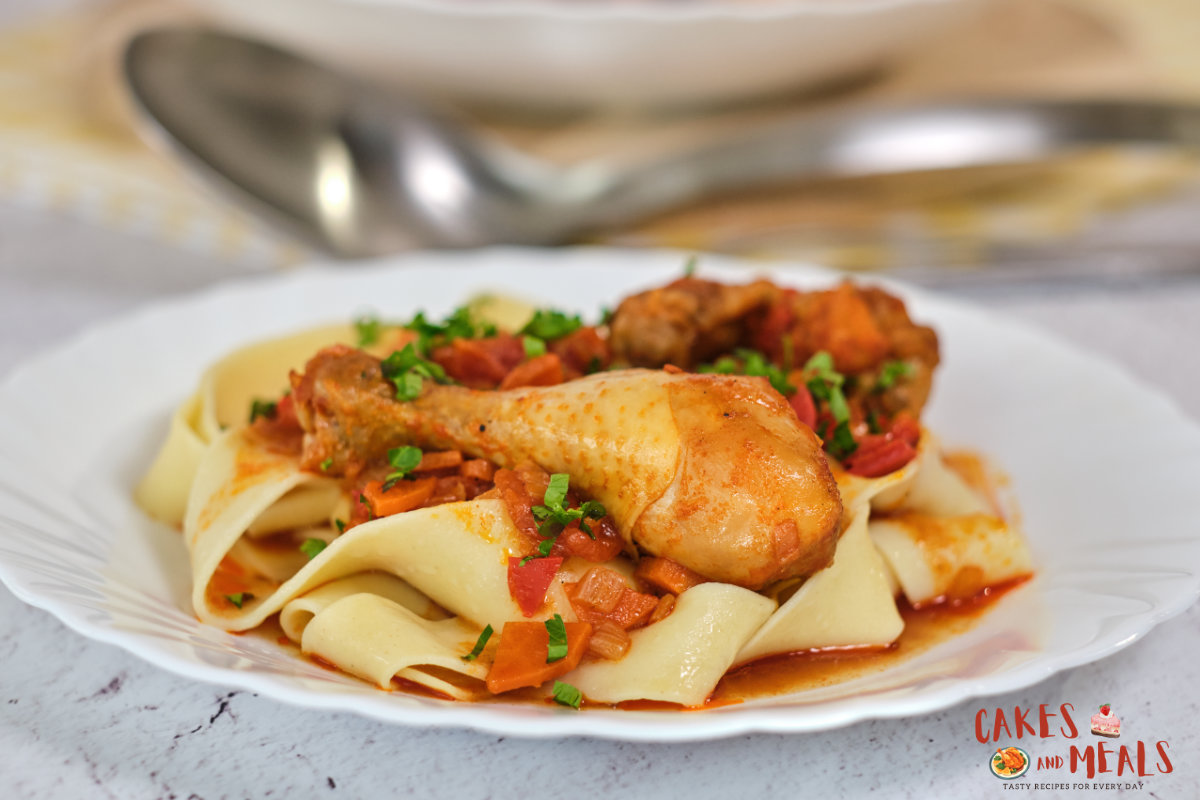 Sign up for free to our YouTube channel HERE, as well to our newsletter to always be among the first to receive our new recipes.
RELATED: If you are looking for more ideas for delicious chicken recipes, be sure to try the excellent BBQ chicken wings.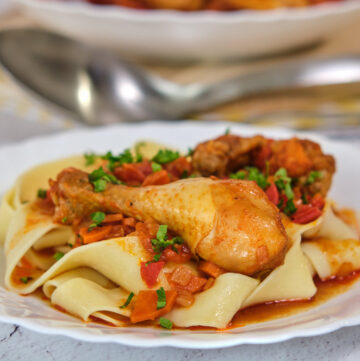 Chicken Stew
Chicken stew is one of the most popular dishes around the world. This variant arrived from Hungary, and I definitely recommend that you try it because it is really great.
Ingredients
2

sliced red onions

2

medium-sized carrots cut into cubes

2

sliced garlic cloves

1

red pepper cut into cubes

1.30

lb

of sliced chicken drumsticks

thighs and wings

1

cup

of peeled tomato

10

g

of ground sweet red pepper can also be added spicy to taste

2

cups

of water

salt

pepper

oil for frying

parsley for garnish
Instructions
Pour oil into a pan on the stove to cover the bottom and heat it.

Add the sliced onion and sauté it while stirring on medium heat for about 5 minutes until it becomes glassy.

Add carrots cut into pieces, stir and simmer for another 5 minutes.

Add the garlic and sauté it briefly for about 20 seconds while stirring.

Add the paprika and simmer for another 5 minutes.

Salt and pepper the meat on both sides.

Then sprinkle it with ground sweet pepper and mix well.

Place the meat in a container with the other ingredients, and turn it over after 5 minutes.

After another 5 minutes, add the tomatoes and lightly chop them.

Cover everything with half of the water and let it simmer for about 20 minutes.

When the water reduces, add the rest of of the water.

Boil everything to reduce the liquid for an additional 20 minutes.

Towards the end of cooking, try the stew and season it with salt and pepper if necessary. If you wish, you can add a little sour cream.

After adding the second part of the water to the stew, heat the water for the pasta in a separate bowl on the stove.

When it boils, add salt and cook the pasta according to the instructions on the package.

To decorate, chop parsley.

Place the pasta and meat on a plate, cover with stew and garnish with parsley.