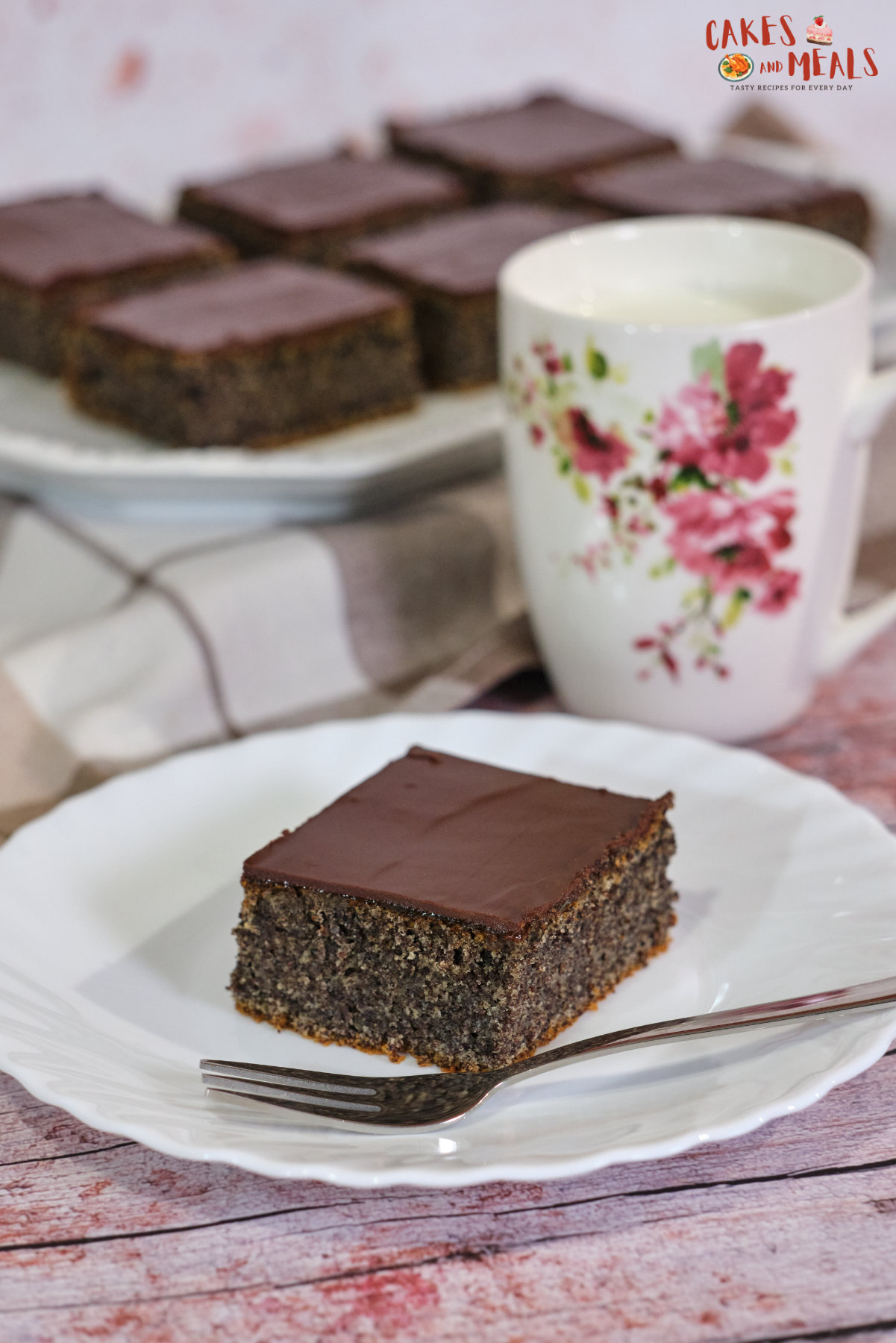 Because I'm a big fan of poppy seeds, I decided to make an proven recipe with this ingredient. It's an excellent poppy seed cake, one of those simple yet delicious desserts. All the ingredients needed to make it are always easily found in every household.
This is a classic cake that is prepared in many European countries, and some say that it originated in Hungary. It has a very tasty biscuit with poppy seeds. This time I used ground poppy seeds, which will give the biscuit a finer structure. But you can make the same recipe with unground poppy seeds, if you prefer. Then this excellent cake will be a little crispier, and the color and texture of the biscuit itself will be a little different.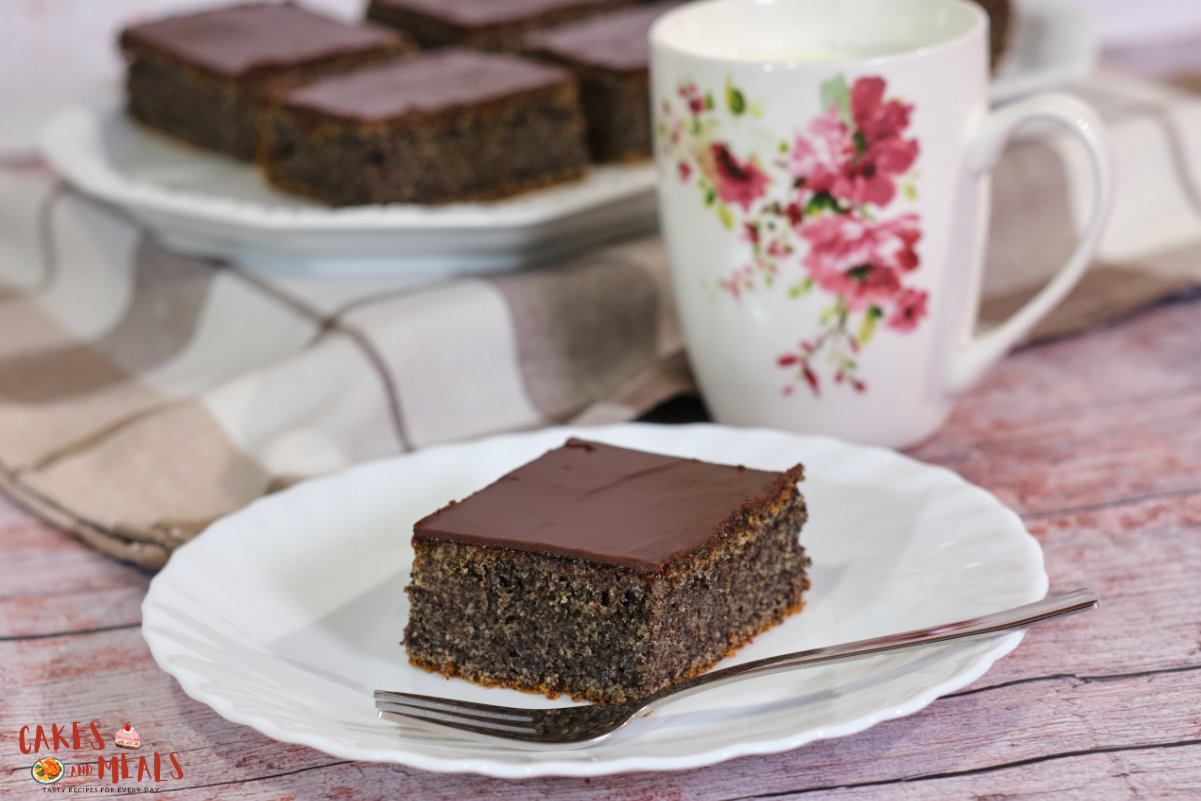 Poppy Seed Cake – perfection with chocolate and fine jam
In addition to the biscuit, there is also a fine chocolate glaze. It is impossible to imagine this dessert without it, because it really fits perfectly. I also used apricot jam. It connects the glaze nicely with the cake, but also gives an excellent and distinctive taste. Chocolate and jam always go well together, and this poppy seed cake is proof because it's just perfect.
Of course, you like poppy seeds or not, but if you belong to this first group, you definitely have to try this recipe. I have it stored in my recipe book so that it is always at hand. There are certainly good reasons for that, and I hope you will agree with me that this cake is really special. You can be sure that you will enjoy it, because it is really excellent and has been tested many times.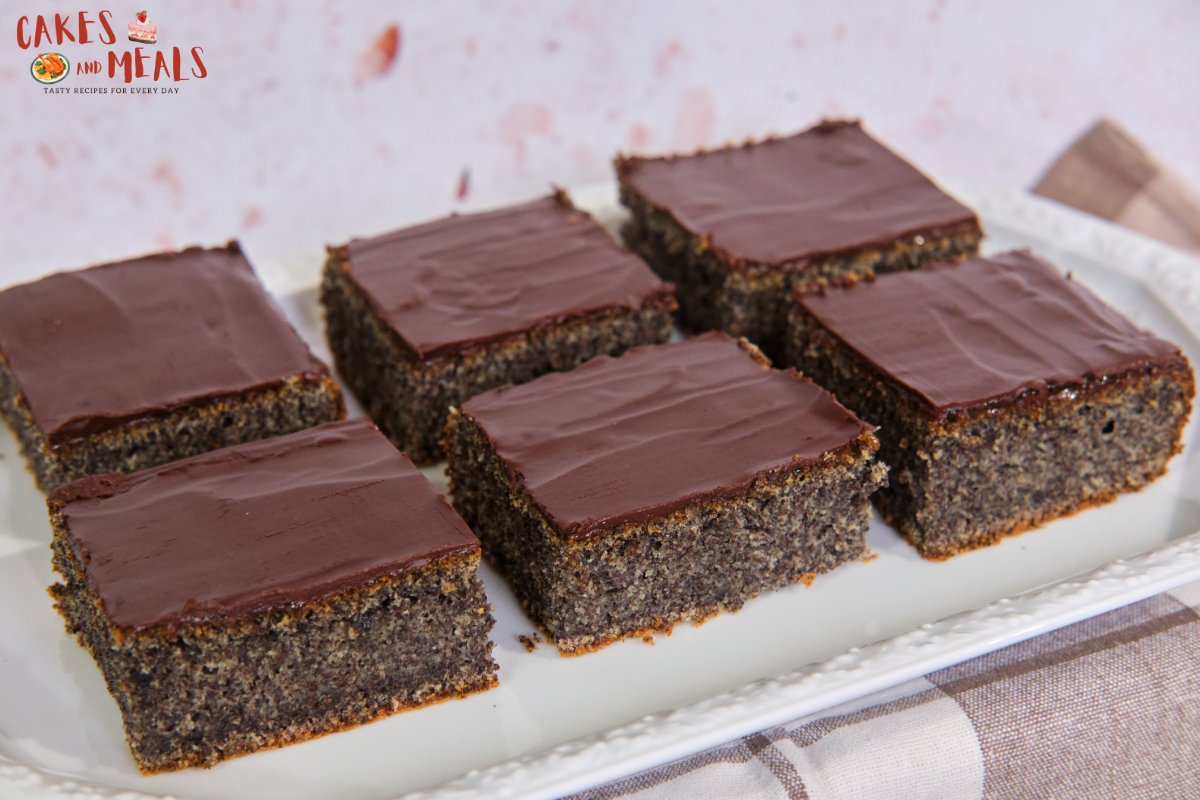 Sign up for free to our YouTube channel HERE, as well to our newsletter to always be among the first to receive our new recipes.
RELATED: If you are looking for more fine traditional recipes, be sure to try the excellent old fashioned apple cake.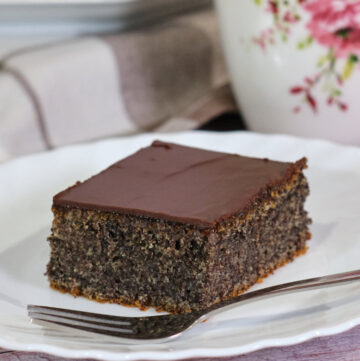 Poppy Seed Cake
Chocolate and jam always go well together, and this poppy seed cake with these two ingredients is just perfect.
Ingredients
3

eggs

3

oz

sugar

2

tsp

vanilla sugar

¾

cup

+ 3 tbsp oil

¾

cup

+ 3 tbsp milk

1 ¼

cup

all purpose flour

2

tsp

baking powder

1 ½

cup

ground poppy seeds

3

tbsp

rum flavoring
Coating
⅓

cups

apricot jam at room temperature
Glaze
½

cup

cooking chocolate

3

tbsp

butter
Instructions
First, you need to separate the egg whites from the yolks, then beat the egg whites into stiff peaks and set them aside.

Add sugar and vanilla sugar to the egg yolks and beat until foamy.

Then pour oil and milk and mix briefly.

Pour smooth flour, then baking powder and ground poppy seeds and mix everything well with a mixer.

Pour in rum flavoring and mix finally.

At the end, add egg white snow and combine everything with a whisk.

Grease and flour a 13×8 inches baking pan.

Pour the biscuit mixture into the pan and shake it well.

The biscuit is baked in an preheated oven on 400 Fahrenheit for 30 minutes.

Remove the baked biscuit from the oven and let it cool for about 10 minutes.

Spread the apricot jam on the still warm biscuit and let it cool to room temperature.

For the glaze, melt cooking chocolate with butter in a steamer.

While it is still warm, spread it on the baked cake and smooth it out.

The cake can be cut and served after two to three hours.