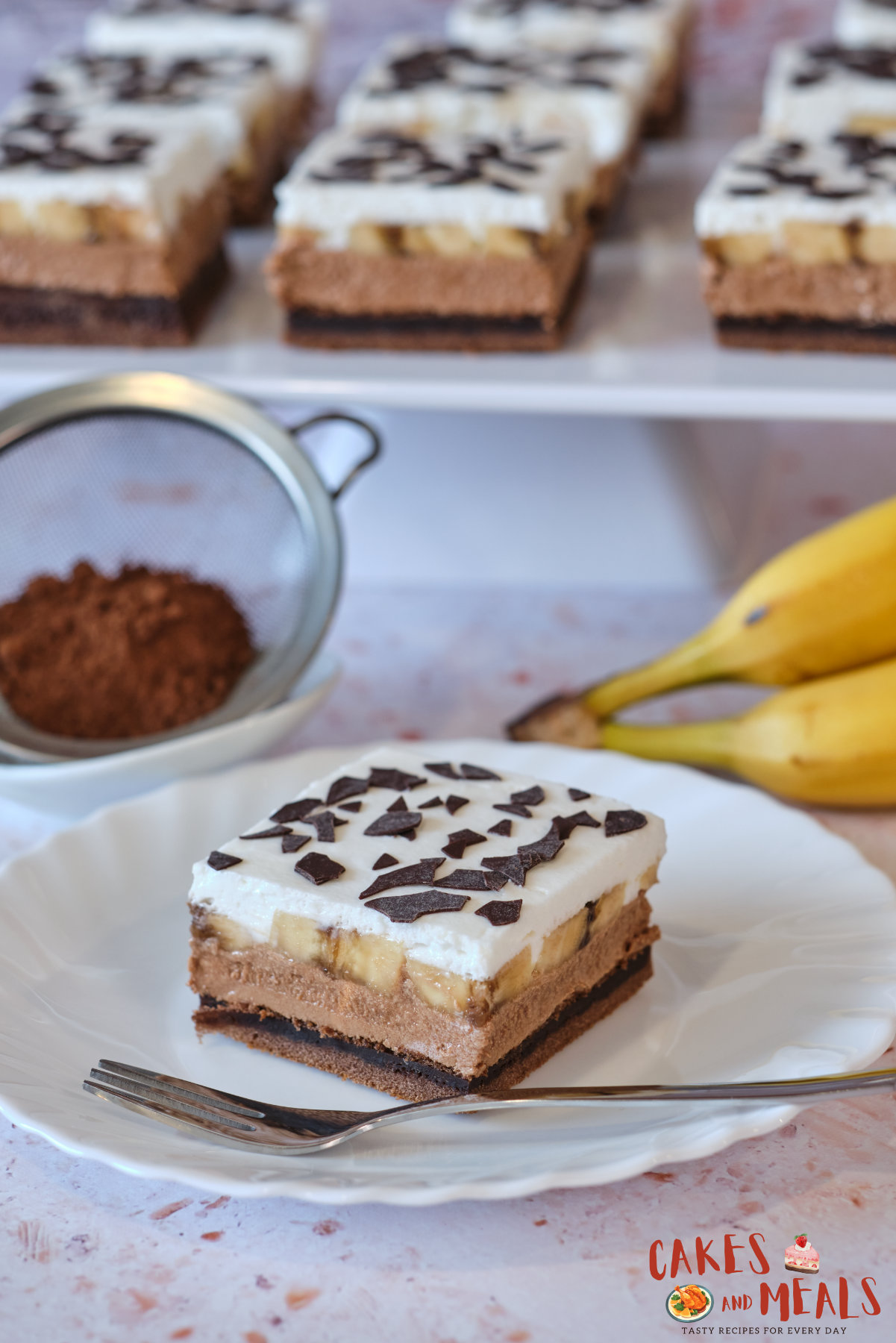 Recently, I was looking for a nice dessert with bananas, so I decided to try this recipe. It immediately seemed very interesting to me. I have to admit that we were all delighted, because this Chocolate banana cake has everything you need for a real and very nice dessert.
What you must know is that this cake is very creamy, so fans of this type of cake will especially like it. I especially liked the excellent chocolate cream, which is really tasty and irresistible. After all, the flavors of chocolate and banana are always a perfect combination with which there is no mistake, and so it is in this cake, which has a really great taste.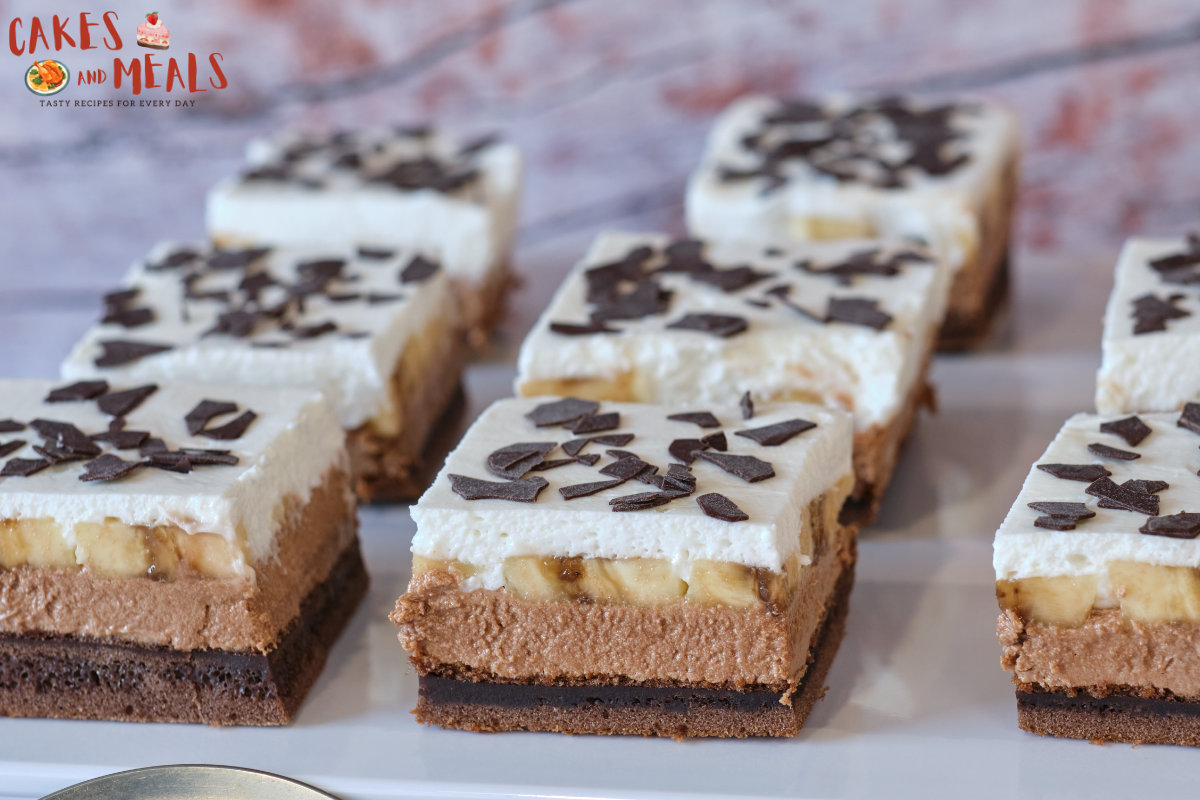 Chocolate banana cake – the perfect combination for any occasion
Biscuits are somewhat interesting because they are made with a fairly small amount of flour. Don't be confused by the two colors on the biscuit. It is made from one mixture, but after baking it gets a darker and a lighter part. Along with it and the already mentioned chocolate cream, there is also a banana layer and a final layer with whipped cream. This time, for the sake of speed and simplicity, I made it with whipped cream powder, but you can also whip it with heavy cream if you prefer.
All in all, Chocolate banana cake turned out to be a hit. This is exactly the type of cake that you will prepare on Sundays for your family or guests, and everyone will be delighted with it. For all chocolate and banana lovers, this is a dessert you don't want to miss.
Sign up for free to our YouTube channel HERE, as well to our newsletter to always be among the first to receive our new recipes.
RELATED: If you are looking for more fine recipes with chocolate, I recommend excellent Moist chocolate cake.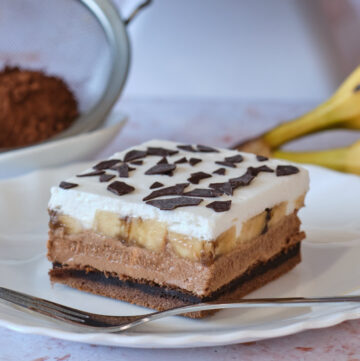 Chocolate banana cake
Chocolate banana cake turned out to be a hit. This is exactly the type of cake that you will prepare on Sundays for your family or guests, and everyone will be delighted with it.
Ingredients
Biscuit
6

eggs

½

cup

sugar

3

tbsp

water

½

cup

sharp flour

2

tsp

cocoa

1

tsp

baking powder
Cream
1 ⅓

cups

milk

4 ½

tbsp

sharp flour

5

tbsp

sugar

3 ½

oz

cooking chocolate

7

oz

butter at room temperature
The rest
3-4

bananas

depending on the size

lemon juice for bananas

2

whipped cream powder for making foam with milk

1 ¼

cups

milk
Instructions
First make the cream so you can enjoy the cake as soon as possible.

Mix the flour with sugar.

Pour 6 tablespoons of cold milk to flour and sugar and mix the mixture.

Make sure there are no lumps.

Boil the rest of the milk together with the torn cooking chocolate while stirring so that the chocolate melts faster.

When it boils, remove from heat, pour in the mixture and stir briefly.

Return to the heat and cook while stirring until the cream thickens.

Transfer the cream to another container so it cools faster and be sure to cover it with transparent film so that a crust does not form.

If you don't have transparent film, stir the cream on top from time to time.

Let the cream cool down to room temperature.

For the sponge cake, break whole eggs into a large bowl, add sugar and mix until foamy.

Add water and strong flour and baking powder.

At the end, sift the cocoa.

Mix everything with a mixer so that there are no lumps.

Grease and flour a 13×8 inches baking pan.

Pour the biscuit mixture.

The biscuit is baked in an oven heated to 360 Fahrenheit for 30 minutes.

Leave the baked biscuit to cool to room temperature.

To complete the cream, mix butter at room temperature.

Then pour the cooled cream into it several times and make it well with a mixer each time.

When the biscuit has cooled, spread the cream on it.

Peel the bananas and cut them into rings, then sprinkle them with a little lemon juice to prevent them from darkening.

Mix them carefully.

Arrange the bananas on top of the cream.

Finally, whip the whipped cream powder with milk according to the instructions on the package (I needed 1 1/3 cups milk for two whipped creams).

Spread the whipped cream over the bananas and smooth it out.

Leave the cake overnight in the fridge to cool.

Decorate the sliced pieces with chocolate flakes before serving.