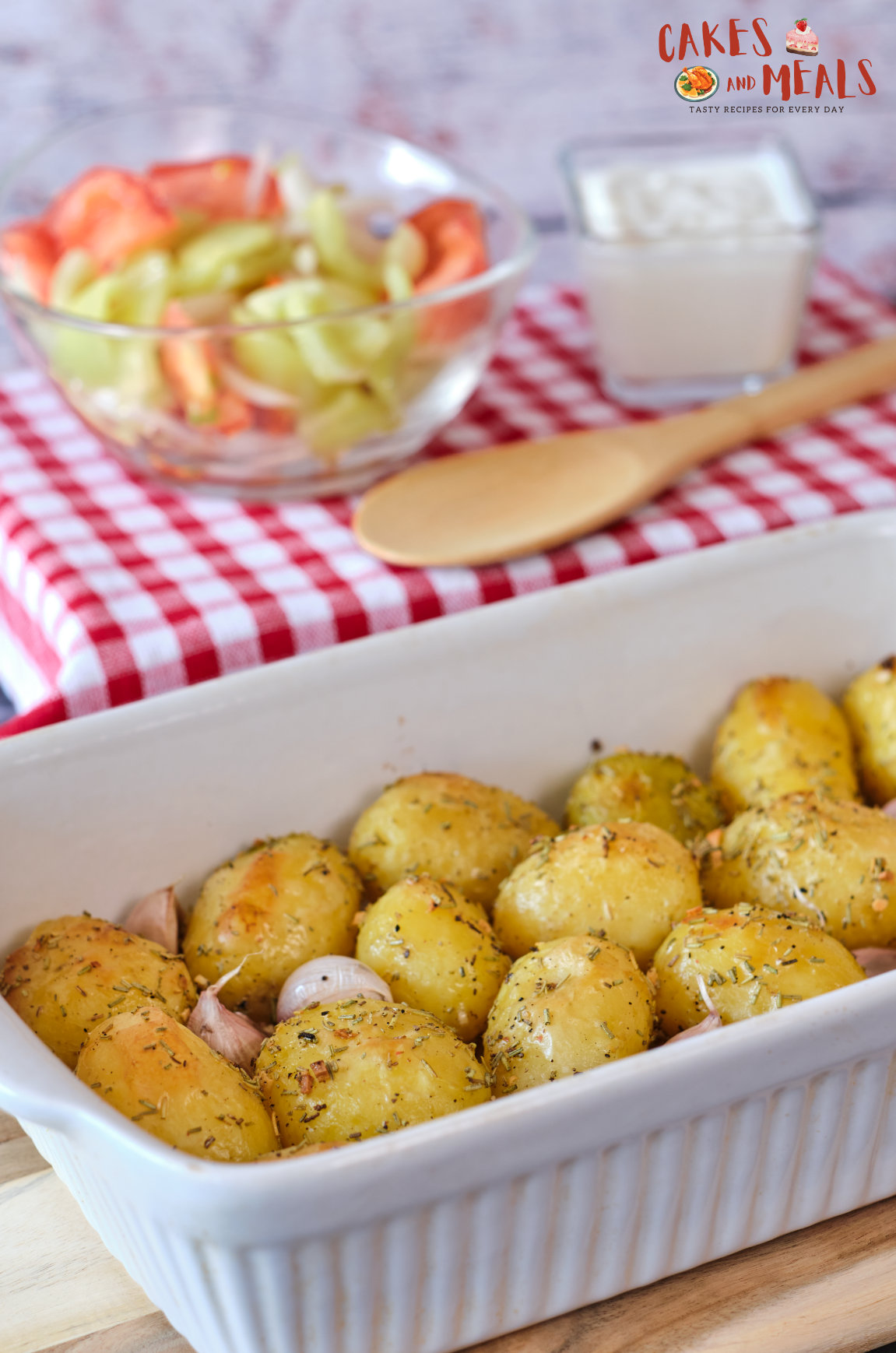 I finally got this year's baby potatoes, so I decided to prepare my favorite recipe that I always like to make at this time of the year. Roasted baby potatoes in the Oven are really especially nice and sweet, and if you haven't try them this way yet, I definitely recommend that you do.
I always make it according to this recipe, and it is actually extremely simple. The only major dilemma is whether to peel it or not. There isn't really a right answer here, as each one is good, depending on how you prefer it. I peeled it this time, actually it is more accurate to say that I scraped off the peel, which is really very thin. This way, the baby potatoes will bake a little better and get a nice golden color.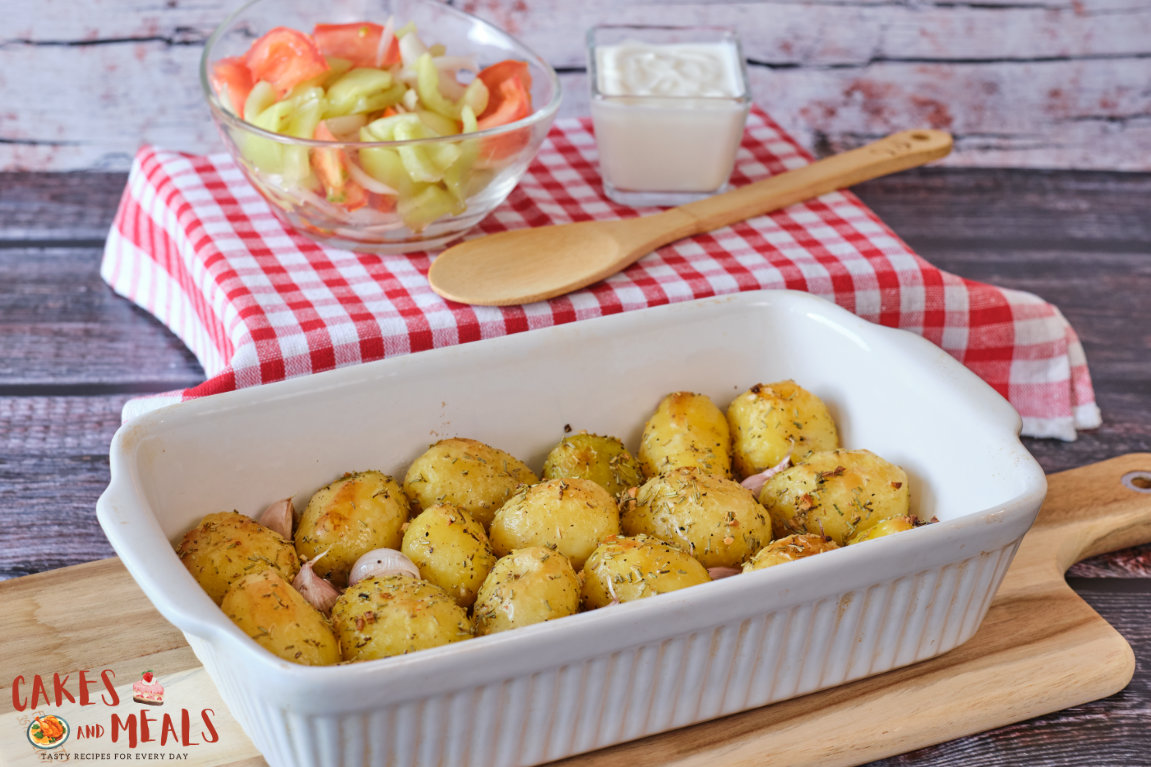 Roasted Baby Potatoes in the Oven – perfectly tasty and sweet
However, if you prefer it that way, leave it in the peel and prepare it in a completely identical way. Before baking, it needs to be boiled very briefly to soften it. When it is strained and cooled a little, the ingredients are added, and there really aren't too many of them. A little oil, rosemary, salt and pepper, but in my case, finely chopped garlic is also mandatory, which gives the dish the right aroma.
Also, I always add whole cloves of garlic, which will lose their intense flavor after roasting. They are really very nice with these new potatoes from the oven. And that's it, you can serve it with some meat or on its own as a light meal. I also recommend that you make a cold cream-based sauce that goes perfectly with this delicious roasted baby potatoes.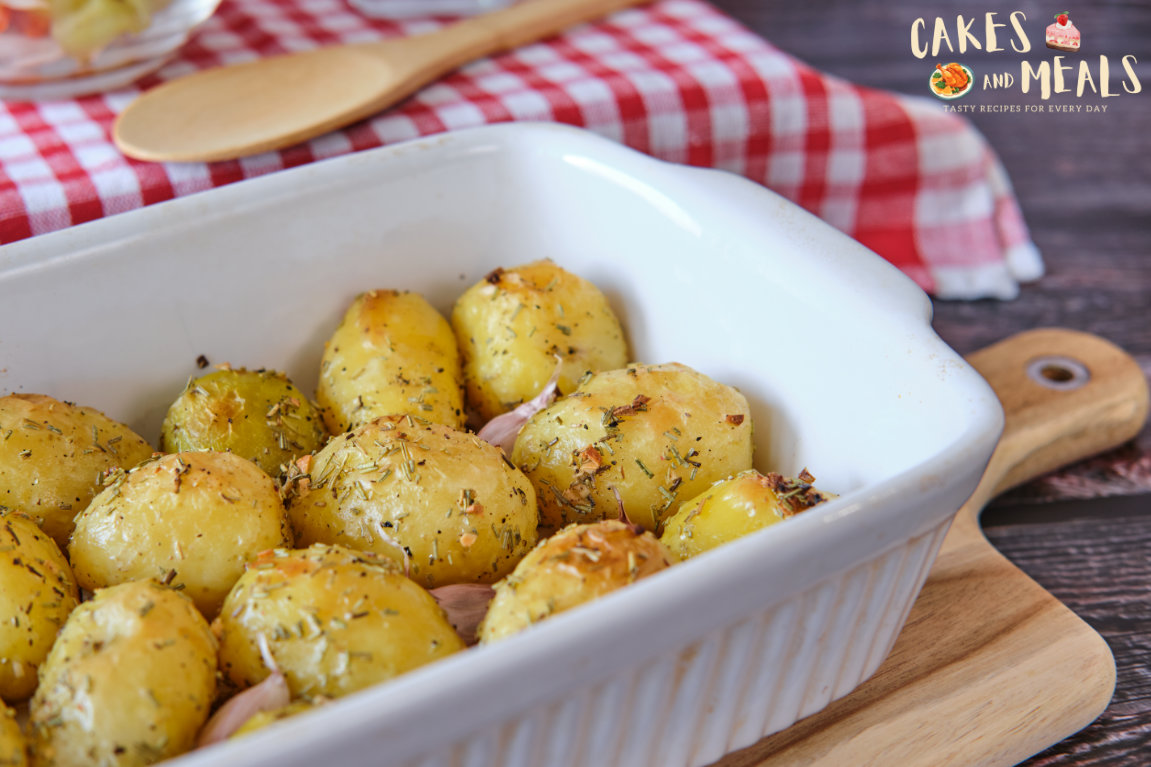 Sign up for free to our YouTube channel HERE, as well to our newsletter to always be among the first to receive our new recipes.
RELATED: If you are looking for more ideas for fine recipes with potatoes, be sure to try the excellent Grated Chicken with Potatoes and Cheese.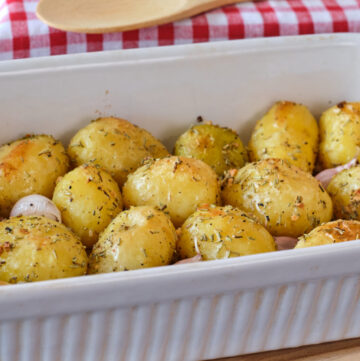 Roasted Baby Potatoes
Roasted Baby Potatoes in theOven are really especially nice and sweet, and if you haven't yet, I definitelyrecommend that you try them this way.
Ingredients
2.5

lbs

of small new potatoes

4

oz

of oil

11

cloves

of garlic

salt

pepper

1

tbsp

of rosemary
Instructions
Scrape the skin off the baby potatoes and put them in a bowl of water. (you can leave the peel if you prefer)

Pour water into another larger pot on the stove and heat until boiling.

When the water boils, add baby potatoes and when it boils again, cook for 5 to 7 minutes (depending on its size).

During this time, peel 3 cloves of garlic and finely chop them.

After 5 minutes, remove the potatoes from the heat and strain them.

Let it cool down for a few minutes, then transfer it to a large bowl.

Drizzle with most of the oil, add salt and pepper to taste, and add sliced garlic and rosemary.

Mix everything well by hand.

Oil the baking dish with the rest of the oil and spread the oil with a brush.

Transfer the potatoes, spread them in a bowl and pour the rest of the oil and rosemary mixture over them.

Put the rest of the garlic between the potatoes.

Potatoes are baked in an oven preheated to 425 degrees F for 30 minutes and serve them hot.