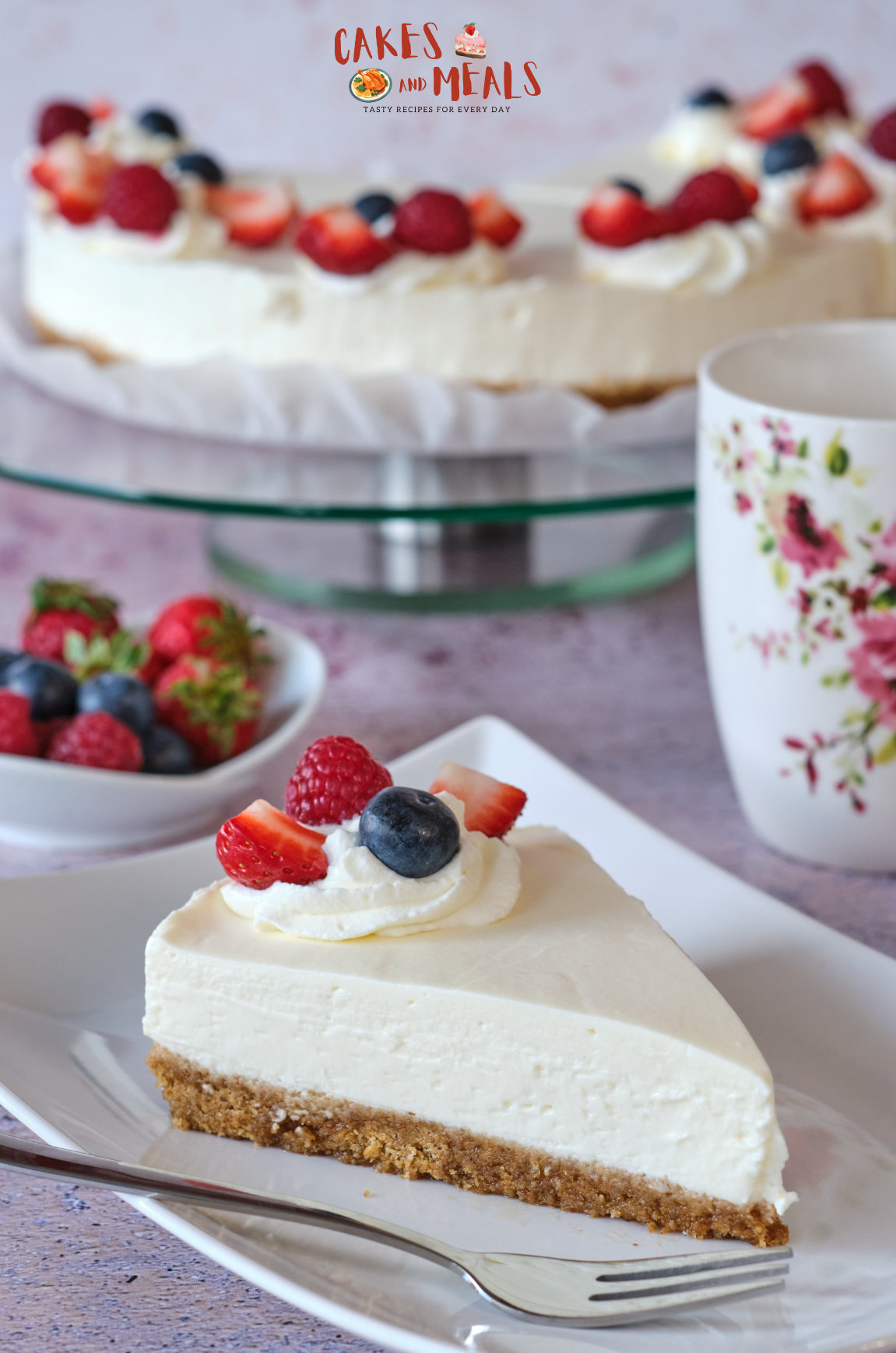 I have to admit, I've been looking for a really great no bake cheesecake recipe for a long time. But as soon as I tried this recipe, it was immediately clear to me that it was exactly the perfect taste I was looking for. That's why I decided to share it with you, because it's really something special and I'm sure that all lovers of this type of desserts will like it.
In fact, this excellent cake contains the finest cheesecake cream I've tried so far. It has a perfect full flavor, and the best thing is that it is not necessary to use gelatin as in some other recipes. Of course, sometimes it cannot be avoided, but this time there is no need for it, because the cream is solid enough when it cools down.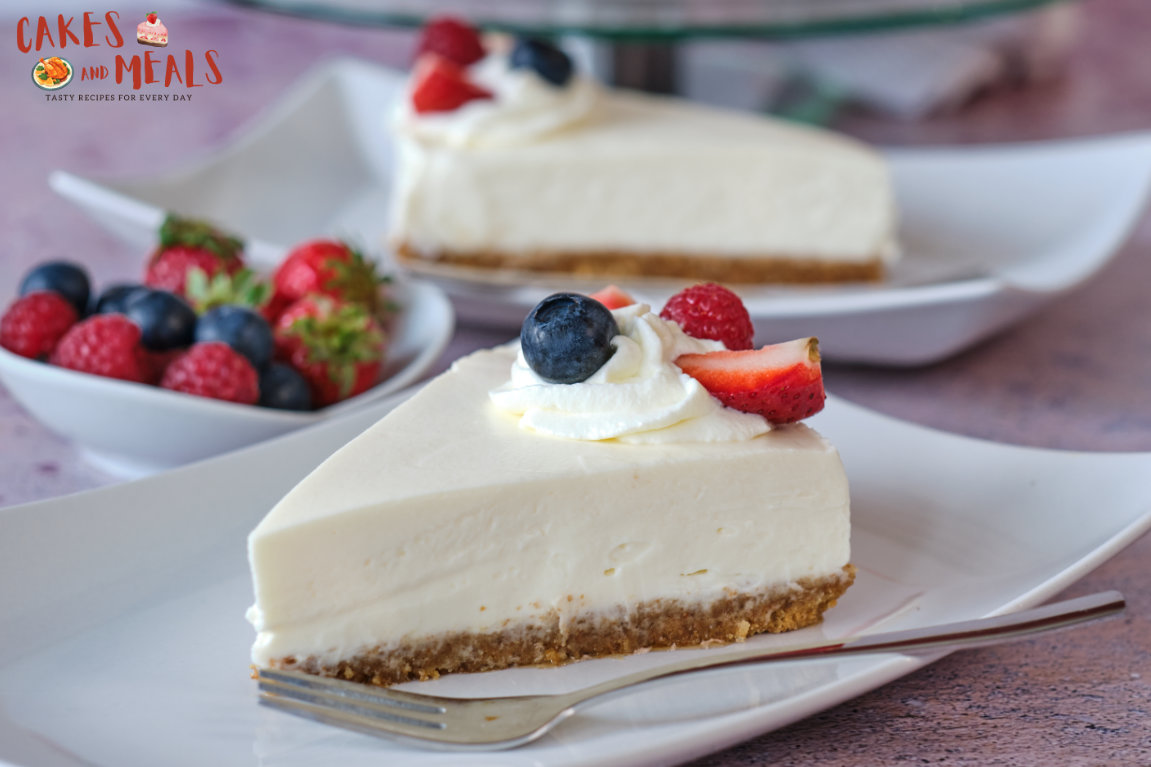 No bake cheesecake – perfect taste in just 30 minutes
But when you put the cream in your mouth, you can see that it is soft, and it melts in your mouth with every bite. This no bake cheesecake is truly perfection! There is also a base made of biscuits and butter. This time I used graham crackers, which give a special taste and I definitely recommend that, if you can, use them. But you can also use other types of biscuits, such as those with butter or others.
You can put fruit on top if you wish. This time I chose strawberries, blueberries and raspberries, and you can also serve without fruit if you wish. Best of all, this no bake cheesecake doesn't even take much time. You will easily make it in just 30 minutes of work, and most of the time will be spent on cooling. It needs to be cooled over night so that the cream hardens well, but after that it's a real pleasure.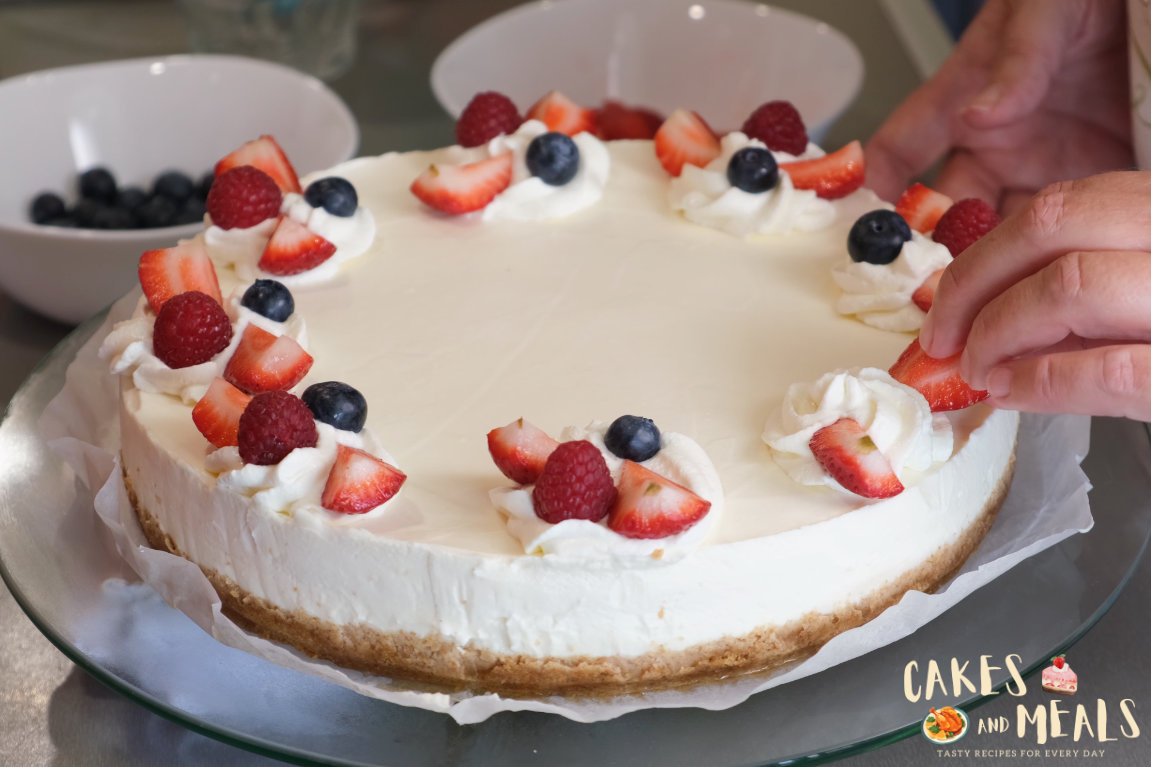 Sign up for free to our YouTube channel HERE, as well to our newsletter to always be among the first to receive our new recipes.
RELATED: If you are looking for more delicious sweet recipes, we recommend the excellent Jaffa cake.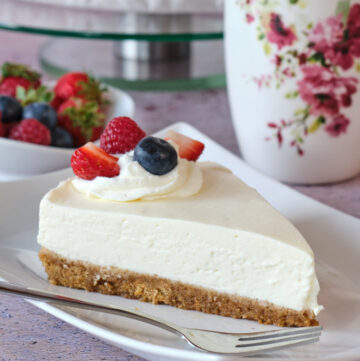 No Bake Cheesecake
This no bake cheesecakedoesn't take much time, and the cream is really perfect!
Ingredients
Substrate:
10.5

oz

of graham cracker crumbs or crackers with butter

½

cup

unsalted butter

¼

cup

granulated sugar

a pinch of salt
Cream:
4

8 oz blocks cream cheese softened to room temperature

6

tablespoons

of sugar

3

tablespoons

of sweetened condensed milk

⅓

cup

sour cream

1

tablespoon

of vanilla extract

1

tablespoon

of lemon juice

10

tablespoons

of heavy whipping cream

4

tablespoons

of powdered sugar
Ornamentation:
10

tablespoons

of whipping cream

strawberries

raspberries

blueberries

other fruit as desired
Instructions
Melt the butter in a bowl on the stove and set aside to cool.

Grind the biscuits in a blender, along with brown sugar and a pinch of salt.

Pour in the cooled melted butter and mix everything again in the blender until it becomes a homogeneous mixture.

Place baking paper on the bottom of round 9 or 10,4 inch cake mold, and coat the walls with oil.

Pour the base mixture and spread it with your fingers and press it with a glass or some other object and level it.

Put the mold in the fridge while making the cream.

Before mixing, take the cheese spread out of the fridge for at least 3 hours so that it is at room temperature.

Pour the cheese spread into a wide container and mix it well with a mixer.

Add sugar and mix.

Pour in the condensed milk and mix briefly again.

Then add sour cream and mix briefly.

At the end, pour vanilla extract and lemon juice, then combine everything.

In a separate bowl, make whipped cream with powdered sugar into stiff whipped cream.

Using a whisk, combine the whipped cream with the cheese spread mixture.

Take the mold out of the fridge and pour the cream over the base.

Flatten everything well and put it back in the fridge to set overnight.

To decorate, prepare the whipped cream the next day, and transfer it to a bag for decorating.

Wash and slice strawberries, and wash raspberries and blueberries.

Take the cheesecake out of the fridge and remove the walls of the mold.

Use a plastic bag to make stands and arrange strawberries, raspberries and blueberries on them.